创始人故事 Our Stories

我们两个创始人夏语林和潘丁浩,一个英国留学回来,一个加拿大留学回来,我们在国外都尝过好的啤酒,可是在中国喝不到。
We two, Xia Yulin and Pan Dinghao, are founders of PandaBrew. While studying abroad in the UK and Canada, we've tried plenty of good beers. We got home after graduation, only to find it was too hard to have a craft beer in China.

所以我们想既然中国还没有好酒,那我们就自己酿酒吧。
Therefore, we thought why not brew by ourselves?

2013 年,我们在北京的一个胡同里开了个十几平的小店,只有一个吧台,四个酒头,六个座椅。酒自己酿,桌子自己做,新漆也自己刷。
In 2013, we opened a bar in a hutong in Beijing. The bar were approximately 20 square meters and equipped with only one counter, four taps and six seats. The beers are brewed by ourselves, so is the table made and painted.

我们把我们的品牌取名叫「熊猫精酿」,因为熊猫就是中国的代表。
We named our brand "PandaBrew" in the hope that it will act as Panda to be the representative of China.

几年过去,我们由一个小团队,渐渐扩大到许多能人志士形成一个专业化的团队;由一家胡同里的小店,发展到在全国拥有十多家门店;从推出了第一款添加了中国蜂采的百花蜜的熊猫眼蜂蜜艾尔啤酒,到几十款精酿啤酒。我们还丰富了啤酒口味,柑橘蜜、草莓、咖啡、辣椒、醋,要什么有什么。
The past few years did witness our progress. We expanded from the initial group of few members to the current professional team, consists of talents and devotees. The small hutong bar duplicated to over 10 bars and restaurants across the country. Started from our first try, the Panda Eyes Honey Ale – which nectar collected by China bee. We now boast dozens of craft beer with citrus honey, strawberries, coffee, peppers, vinegar and all flavors you can imagine.

我们从来没有忘记要「酿出中国好啤酒」的初心。
Still, we've been staying true to our mission of 'brewing Chinese best beer.'

第一款啤酒故事 Our first beer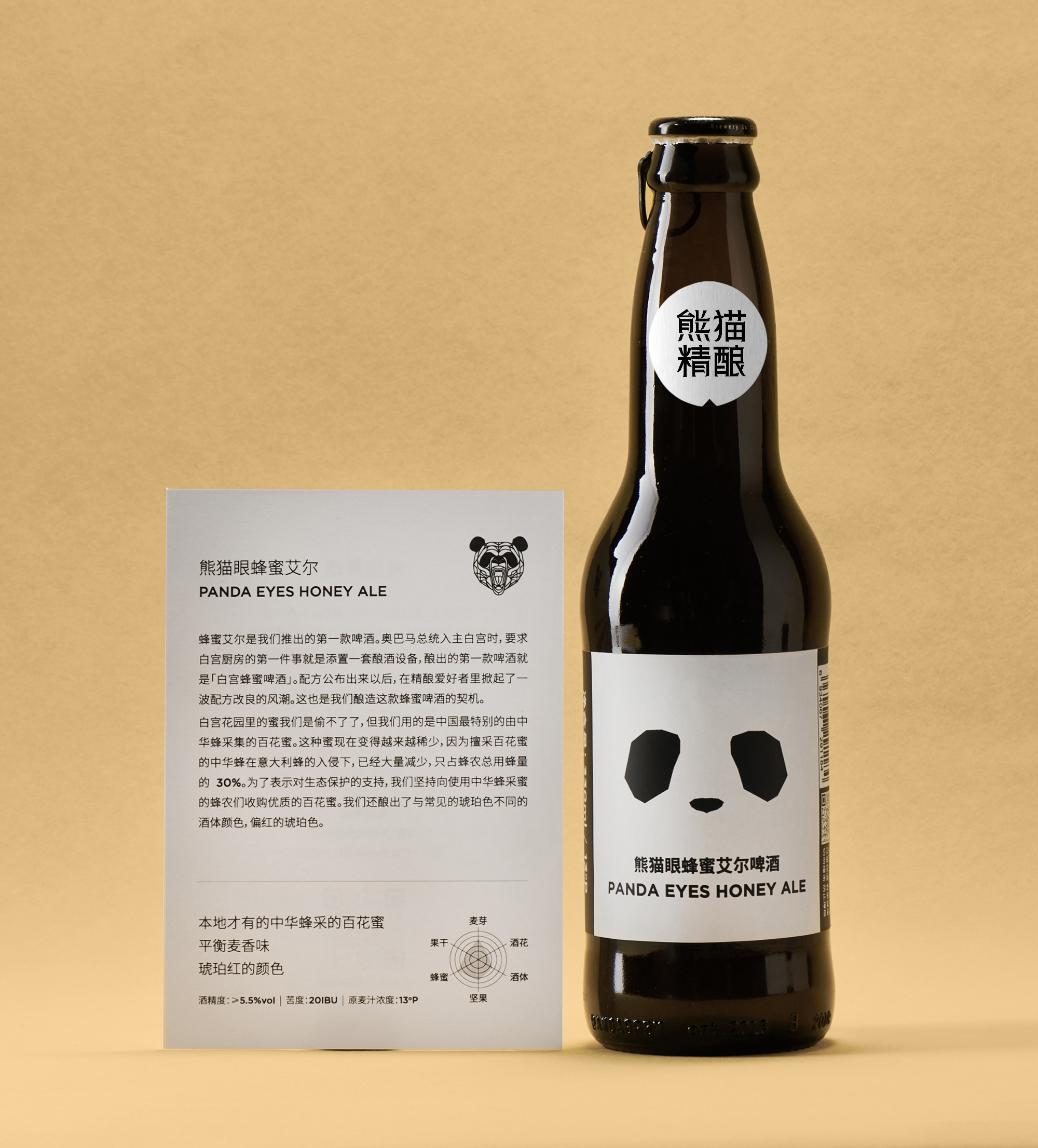 最早我们开始决定做精酿的时候,我们想做的就是一款真正好喝的啤酒。
At the very beginning, we wanted out first brew to be a craft beer with decent taste.

那到底第一款做什么口味呢?
So what would be our first bottle?

首先,我们想做一款有中国特色的啤酒。其次,我们想做一款大家都容易接受的啤酒。
First, we wanted to make a beer with Chinese characteristics. Second, we wanted to make a popular and widely acceptable beer for everyone.

所以,我们就想到了蜂蜜这个食材。蜂蜜常会让人们联想到非常美好、甜蜜的事物,而且自古以来就有把蜂蜜加在啤酒里的传统,直到现在蜂蜜酒也是一个受欢迎的酒。
Finally, we thought of honey. Honey often reminds people of sweet and delightful things. Also, there has been the tradition of adding honey to beer since ancient times, and until now honey beer is still very popular.

当时还有另外一个契机,奥巴马总统入主白宫时,要求白宫厨房的第一件事就是添置一套酿酒设备,酿出的第一款啤酒就是「白宫蜂蜜啤酒」。配方公布出来以后,在精酿爱好者里掀起了一波配方改良的风潮。
There was another catalyst for our first brew. As President Barack Obama moved in to the White House, his very first demand was to add brewing equipment to the kitchen, and the first beer was made is called White House Honey Ale. There's been a constant trend of amending and making new beer among brewers after the release of recipe.

白宫花园里的蜜我们是偷不了了,但我们用的是中国最特别的由中华蜂采集的百花蜜。这种蜜现在变得越来越稀少,因为擅采百花蜜的中华蜂在意大利蜂的入侵下,已经大量减少,只占蜂农总用蜂量的 30%。为了表示对生态保护的支持,我们坚持向使用中华蜂采蜜的蜂农们收购优质的百花蜜。我们还酿出了与常见的琥珀色不同的酒体颜色,偏红的琥珀色。
Obviously there is noway to steal honey from the White House, instead we add secret ingredients to make ours unique—mixed nectar collected by China Bee. This particular honey is becoming increasingly scarce. The number of Apis cerana is severely depleted by the invasive Apis mellifera ligustica, accounting for only 30% of the total bees raised by beekeepers. For the sake of ecological protection, we insist on the purchase of high-quality nectar from beekeepers that raise China Bee. Our Honey ale has a unique amber color.

最早我们将它取名为「正红蜂蜜艾尔啤酒」,因为它的酒体颜色是琥珀红的。那时我们连设计师都没有,所以我们的首席酿造师潘丁浩也兼职做设计师。自己设计了好多天,设计出一个用隶书写的「正红」中式印章样式就交付印厂印刷了。但印刷当天潘丁浩他心里一直不踏实,觉得哪不对,总觉得这个标不会「红火」。当时印刷厂已经印了三分之一的瓶贴了,他打电话紧急叫停,自己用了二十分钟重新画出了一个新酒标——就是熊猫的两只眼睛和一个鼻子,熊猫眼。
Earlier in time, we name it 'Oriental Red Honey Ale' in light of its amber red color. At that time, we didn't even have a designer, so Pan Dinghao had to be play two roles — chief brewer as well as designer. He designed the label for couple days and got a pattern of a seal with character '正红(Oriental Red)' written in Chinese official script. He felt anxious after sending it to the printers, worrying that this label would not be a hit. He urgently called for stop as the printers had already done one-third of the work. Then he spent 20 minutes to draw a new bottle label — eyes, panda nose, as well as the panda eyes.

果不其然,有熊猫眼的瓶标的蜂蜜艾尔啤酒一炮走红,而当时正红中式印章的那三分之一的啤酒至今在仓库里堆着。
Just as he expected, the honey ale in bottle with the panda eye label became famous overnight.And it becomes one of best selling PandaBrew beer on the market.

我们的公司文化 Culture of PandaBrew


Get Cracking
我们熊猫的两个创始人都是从来没有做过啤酒的,我们就是外行人。如果我们当年要知道做啤酒有这么难,我们压根都不会开始。
As founders of Panda Brew, we were more of two outsiders at the very beginning, knowing nothing about brewing. If we had to see the difficulty, we would definitely not start at all.

可正是因为我们不知道,我们才有搞了再说的勇气。
However, the less wit, the more courage. We just got to crack on it.

13 年我们决定不仅仅在我们的门店里酿精酿啤酒,我们还要做瓶装。那时候我们问遍了国内所有玻璃瓶的供应商才发现,玻璃瓶都是最少五百万个起订的。瓶盖本来一个也就 0.1 分钱,但你一个的订单必须是四五千万个。我们那时才三四个人,在一个小破办公室里面,办公桌都是自己搭的,瓶贴设计也是自己两分钟随手画的。我们把所有钱都压在了第一批瓶装酒上了。别看就是那么一小批量,我们多花了几倍的成本,而且还是跪求各家供应商才做出来的。
In 2013, not content with just offering craft beer in store, we decided to make bottled beer. At that time, the minimum order quantity for glass bottle of all suppliers we asked was five million, regardless of the fact that 1000 caps cost only 1 yuan. Our team had only three to four people, working in a small shabby office with desks set up by ourselves. The bottle label was designed curtly in minutes by ourselves. We put all money on the label of our first bottle. It took us several fold costs and time to request suppliers to produce that small batch of bottles.

但也正是因为那第一批酒,我们成为了中国第一波做精酿啤酒的,也赶上了精酿啤酒增长最快的时期,两年内就成为了这个行业里的第一,17 年我们就是第二名的三倍第三名的十倍了。现在更是远远甩出精酿里的其它品牌。无知就是我们最大的优势,是无知让我们做了内行都不敢做的事情,而且我们也越做越好。
Because of that batch that we became the very first group people in China who made craft beer. We were also lucky to have caught up with the time when craft beer enjoyed rapid advancement and thus topping the industry within two years. We are now far exceeding other brands in the industry. The less wit we have, the more courage we own. Thanks to our bold action of doing things which others dare not to do, we are now getting better.

搞了再说不是蛮干,是大胆的搞,之后再说,再反思。
To get cracking doesn't mean to be ruthless, but rather a bold move followed with reflections afterward.

这是一个有才华就不可能被埋没的时代。任何时候,只要一个人给了你一个很好的机会,你不知道自己能不能做好,别管了,抓住这个机会,搞了再说!
This is an era when cream always rises to the top. Whenever someone gives you a good chance, seize it! Don't mind whether or not you can make it, just get cracking on it!

现在想想做精酿啤酒真的很苦逼。这是别人逼我们的么?
Think back to the difficulties we've met on the way of making craft beer, I sometimes wonder: are we forced to do this?

并不是。我做熊猫精酿之前,十年前我就年薪百万了。联合创始人潘丁浩,他从加拿大留学回来,家里可是有矿可以去继承的,但他不满足做一个富二代。我们李志刚总,30 岁就拿到了金饭碗,当时是人民银行最年轻的干部,稳稳当当可以一辈子。包括老卢,人在湖南的餐饮圈也是赫赫有名的小巨子,自己创业的几个餐饮品牌现在还是长沙响当当的金招牌。
No. Ten years ago, I've already earned more than a million before Panda Brew was founded. My co-founder Pan Dinghao who came back from Canada, was the kind with deeper pockets but had great aspirations. Our COO, Li Zhigang, got his well-paid job at age of 30, who was the youngest cadre of the People's Bank of China and would have lived a stable life. Our CCO Lu Min, was a big shot in Hunan's dining industry who carved out several restaurant and beverage brands that are still renowned in Changsha.

我们几个高管其实在做精酿啤啤酒之前都混得好好的。那为什么还要做精酿呢?还不是就怕没意思。
Why did we start brewing while we were all thriving on our own businesses? We were unwilling to embrace the status quo.

人生苦短,我们一起和有意思的人做一点有意思的事儿,才有意思。
Life is too short. It is only meaningful when interesting people gathered to do interesting things.

一起来搞点事情!
Just get cracking on something!

Covert Study
我们熊猫的高管里没有一个是做过啤酒的。所以我们一切都是从零开始学起。
None of the executives of PandaBrew had ever made beer. So we all learnt from scratch.

13 年的时候,我对啤酒一点都不了解,本来什么技术问题也可以去问刚入门道的合伙人潘丁浩。但是我没有。我自己先看了啤酒相关的所有专业网站,brewerassociation,ratebeer,BJCP。我还看了十多本关于啤酒的书,包括 BA 厚厚的那四本 Malt Water Yeast Hops也都翻了翻,当然还有 Brewdog 的创始人写的那本 Business for Punks 和 Dogfishhead 的创始人写的那本 Brewing Up Business。
In 2013, I knew nothing about beer. I could have asked my partner Pan Dinghao who was a bit more professional than me, but I decided to learn all by myself. I carefully browsed all the professional websites related to beer, including Brewerassociation, Ratebeer,BJCP. I read more than a dozen books about beer, including the thick four volumes of 《Malt, Water, Yeast, Hops》of BA, and of course 《Business for Punks》written by founder of Brewdog and《Brewing Up Business》by founder of Dogfishhead.

这样子偷偷摸摸学了一段时间之后,我才和潘丁浩一起酿了几次酒,找到了感觉。从此任何人再和我讲精酿还有啤酒,就不可能忽悠到我了。
After secretly studying and few trials practicing with Pan Dinghao, I found myself gradually catching on. Since then, I was capable to blurt out things about craft beer with others.

我们北京办公室有一副毛主席手书的「学习」二字,大概是作为一个湖南老板必须要保留点革命特色的缘故,后来合伙人老卢在长沙办公室也请人写了一副,欢迎公司的小伙伴作为入职照片拍摄点打卡。
One of the wall in our Beijing office hangs a calligraphy work of '学习(study)' written by Chairman Mao. A boss from Hunan Province, I guess, prefers to retain some revolutionary features with him. Later, co-partner Senior Lu asked for a copy at the office in Changsha, which became the popular place to take photo to welcome new recruits.

偷偷摸摸的学习也不是说不能问别人,而是任何事情都不能一知半解。当你还蠢的时候,你都是被别人骗;可当你变聪明了,你都是自己被自己骗。
My covert studying was far from being totally independent to others. Rather than being half acquainted with it, I made myself bite deeply into it. When you are ignorant, you are easily getting cheated by others; but when you become professional, you can seek truth by yourself.

偷偷摸摸的学习就是要让自己不被自己忽悠了。
The covert study was to free oneself from being fooled by oneself.

It's all My Fault!
两个月前,我无意间浏览到我们熊猫精酿 Facebook 页面上的一个留言,一个老外说:这是我在中国去过最差的酒吧(quite simply the worst bar I've been to in China)。我当时第一反应是"总有坏人要害朕",但我还是与那个老外通过短信了解了事情的来龙去脉。
Two months ago, on Panda Brew's Facebook page I accidentally read a message a foreigner left, saying 'quite simply the worst bar I've been to China'. My first reaction at the time was 'someone's gonna screw me over', but I still got in touch with him in hope to know more details.

这位客人来到我们啤酒厨房喝酒,看到吧台内的吧员为了提高打酒的效率,不是直接从酒头里打酒,而是先把啤酒打到一个大的玻璃壶里,再一杯杯倒出来。他觉得这样子酒就不够凉了,达不到他喝啤酒的味道的标准,坚决要求换一杯,我们门店的小伙伴拒绝了。然后他拒绝结账,店长和小伙伴阻止他和夫人离开。
I got to know that once he came to our Brewery&Kitchen to drink, he saw the staff taking out his beer from a large glass jug but not from the tap. The staff aimed to improve the efficiency, but he thought that affected the coolness of beer as he expected. He then insisted on changing his beer but was refused by our staff. He denied the bill and got stopped by our manager and other staff while he was about to leave with his wife.

这位客人在短信中对我愤怒的说:我从来没有这样被当做小偷一样来对待。当我读完他的短信,我第一时间与店面了解了当时发生的情况,然后我代表熊猫整个团队以及我个人向他认真的道歉,的确是我们做的不好。
He expressed his anger in the message: I have never been treated like a thief. Knowing this, I asked information from our staff, and then sent my sincere apology to him on behalf of Panda Brew and myself. It was indeed our fault.

道歉的那条评论我们也会一直留在 Facebook上。
We will retain that apology forever on Facebook.

然后我开始反思为什么我们没有任何一个店面的伙伴把这件事情上报过?可能是因为一旦上报就会有批评和处罚。可是错误的发生总是不可避免的。
After that I kept thinking why haven't we received any report from our store? It was understandable that there might be criticism and punishment once reported. But the fact is mistakes are always inevitable.

正是因为有这个客人的抱怨,正是因为有吧员的这个错误,我们改进这三个细节:
It was his complaint, and the mistake our staff made did we start to improve from the following three aspects:

1、我们改进了我们的酒吧的打酒系统,这样就不需要因为泡沫过多而把啤酒提前打出来,我们会把啤酒在最好的温度时递给顾客;
1. We upgrade the tap, and there is no need to get the beer out in advance because of the excess of foam. This act is to ensure us deliver the beer at the best temperature to our customer at all time.
2、我们告诉门店的小伙伴们,无论客人的理由是什么,他们都可以帮客人换酒;
2. We give the staff permission to change the beer for all customers regardless of reasons;
3、我们给了我们的店长授权,无论送酒还是免单,他们都有权利自行处置突发情况;
3. we authorize our bar managers the right to handle sudden situations and to decide for exemption or donation;

一个错误的发生,我们改进了,我们以后就可以避免一百个、一千个类似的错误。
A mistake made spurred us to improve and avoid hundreds or even thousands of the possible same mistake in the future.

所以我们希望我们的每个小伙伴都对自己要永远不满足。无论是工作中还是生活里,每天都有一百件小事,一百个细节,值得你去琢磨一下,再琢磨一下。能做得更好的,你应该都已经在做了;没有做得更好的,只是因为你还不知道你不知道而已。我们喜欢对自己永远不满足的人,那些对自己和他人都设下更高标准的人,那些敢于承认自己错了并敢于去改变错误的人。
We hope that each of our members will never be satisfied with themselves. Whether at work or in life, trifles and details are all worth reflections. Improve whenever there's a chance to make it better. If you ever feel satisfied, that might because you are not aware that you are imperfect. We are optimistic about those who are never satisfied with themselves, those who set higher standards, and those who dare to confess their fault and make a change.

我希望下一次发生错误的时候,有人会先说,错的都是我。
Next time when a mistake occurs, I hope to see someone who can stand out and say 'It is my fault'.